September 20 – November 14, 2019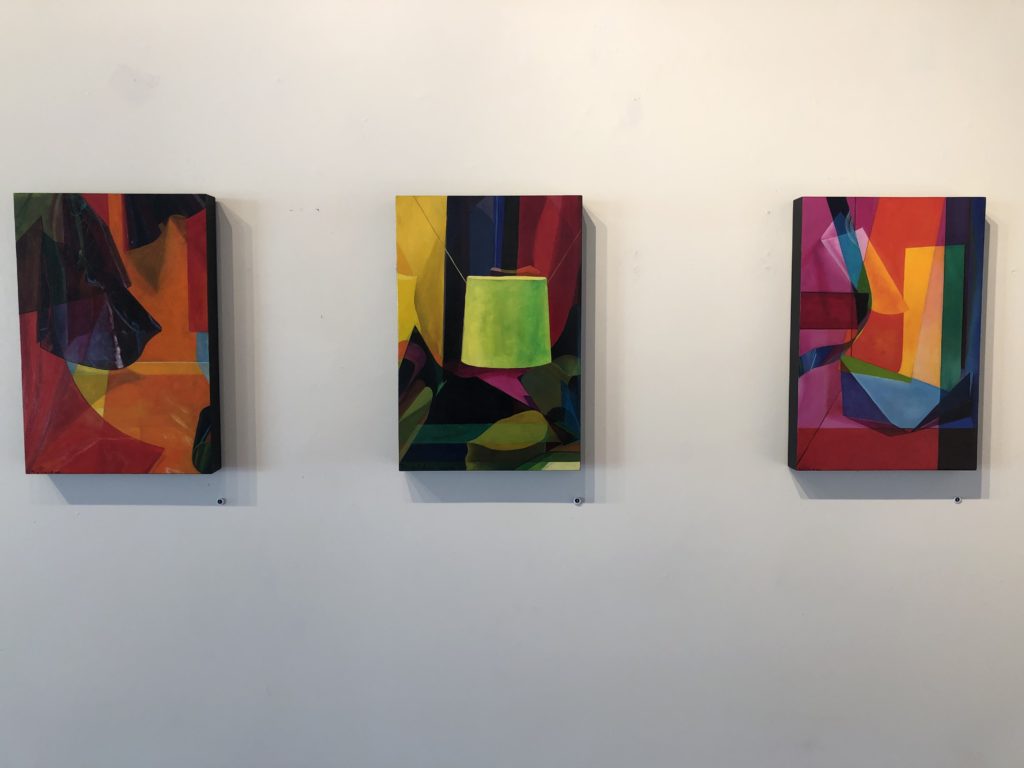 Abstract Trompe L'oeil highlights Wilson's deep interest in the interplay of colored surfaces. Her previous paintings were conventional still life paintings depicting recognizable objects with reflective, transparent surfaces that appear as small abstractions. Creating these paintings led her to the idea of creating purely abstract still life paintings. At first glance, her new work appears to be flat, hard edge, geometric and abstract. Upon closer observation, viewers are drawn in by the illusion of depth.
To create these unusual paintings, Wilson first constructs an abstract "still life"—a three-dimensional composition of opaque, translucent, and transparent papers, and colored gels.  After arranging lighting above to create a kaleidoscope of reflections, she paints the "still life" from direct observation, challenging herself to create the illusion of three dimensions and transparency using only opaque pigments.
Although the paintings are formal compositions, they evoke futuristic cities, outer space, and science fiction settings. Surface flatness and the illusion of depth coexist simultaneously, creating spaces where the interplay and fusion of saturated colors, abstract shapes and imagination magically coexist.
Wilson received her BA in 1979 from San Francisco State University where she studied with Robert Bechtle, a photo-realist painter. She completed her MFA in 1982 at UCSB where she studied with Ciel Bergman and William Dole. She has maintained a studio and residence in Santa Barbara for 40 years and has participated in many group exhibitions and several solo exhibitions. She currently teaches art classes at SBCC School of Extended Learning.