Architectural Foundation of Santa Barbara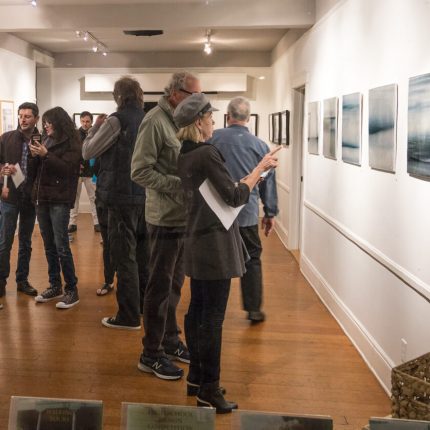 The Gallery/Conference Room of the Architectural Foundation of Santa Barbara is a dynamic space within a historic setting for curated exhibitions of contemporary art, photography and design. Four solo exhibitions and one group exhibition are presented annually. 
Local artists, architects, photographers, and designers are invited to submit work created in a wide range of content, mediums, and styles. Drawings of local landmarks from the Kids Draw Architecture (KDA) program are featured in December.
Our Friday evening Opening Receptions with the artists are open to all.  On Saturday afternoons, the Gallery is open for visitors to contemplate exhibitions at their leisure.  Throughout the year, we offer Artist Workshops with our featured artists and Art Talks with artists, gallery owners and curators, critics and art historians designed to foster creativity and community dialogue.
Through this lively exhibition and education program, the AFSB Gallery provides a unique forum for emerging and established artists, collectors, and art aficionados from the tri-county area.  
For information on how to apply for an exhibition, please read our Mission & Guidelines or contact us.
Gallery Opening & Holiday Party: KDA 2023 Drawings and Calendar
November 13, 2022 – January 4, 2023
         Gallery Opening & Holiday Party Sunday November, 2022 from 1:00PM-3:00PM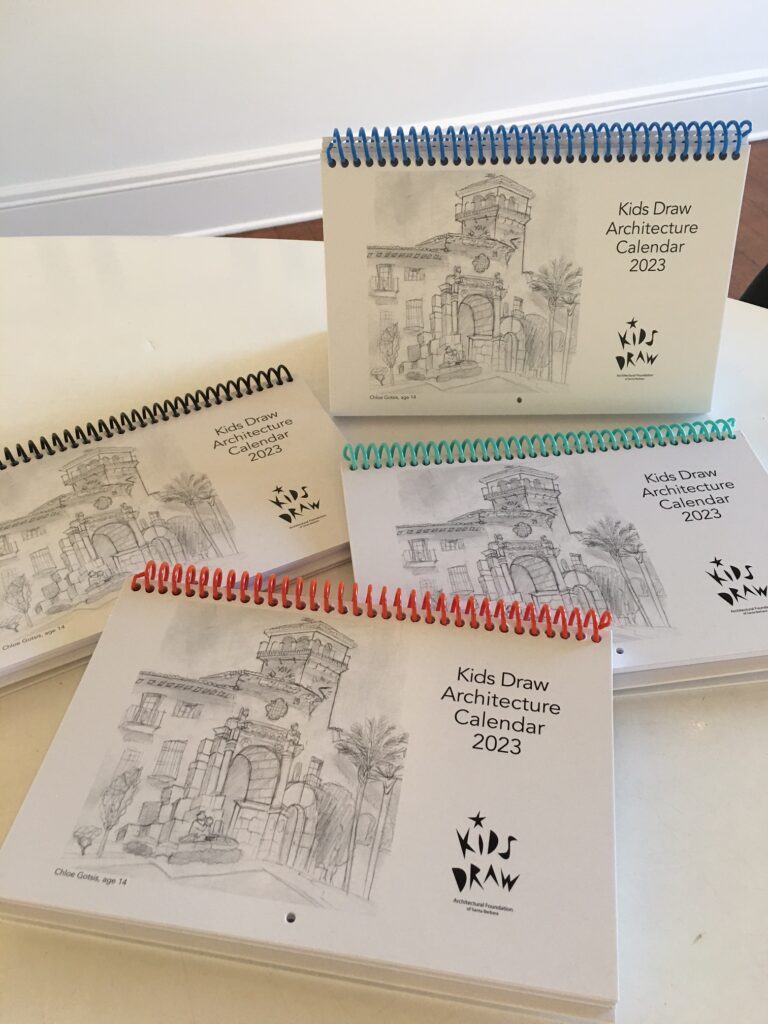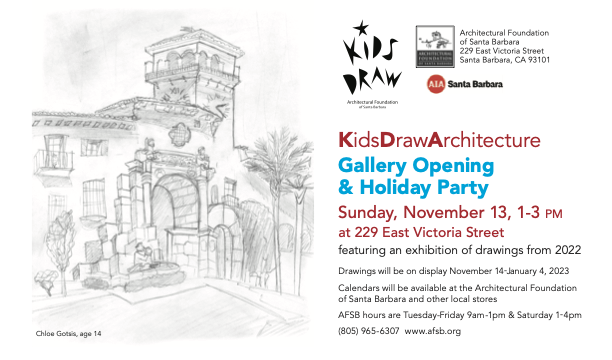 The Architectural Foundation of Santa Barbara (AFSB) and the American Institute of Architects, Santa Barbara Chapter (AIASB) are pleased to announce the annual gallery show and sale of Kids Draw Architecture (KDA) calendars. Every year, KDA brings youth and architects together to sketch important Santa Barbara buildings. This activity helps kids learn about architecture and the skill of drawing while working alongside volunteer professional mentors.
This year's sketch session took place on the lawn of the Santa Barbara County Courthouse. The delightful drawings in the 2023 calendar include a selection of those images drawn and submitted by participating kids capturing the historic Courthouse building with creativity and joy.
The 2023 calendars will be available for purchase at the Architectural Foundation of Santa Barbara beginning November 13. Join the artists and their families that day at the annual gallery show and holiday party from 1-3pm. Limited copies of the KDA 2023 calendar will also be available for purchase at local bookstores and shops if you are unable to stop by AFSB.
The 2023 KDA calendar wouldn't be possible without the sponsorship of members from this community. Thank you to our sponsors Coast Reprographics, Santa Barbara Beautiful, DMHA Architecture + Interior Design, Ensberg Jacobs Design, Art & Architecture, Mosher Foundation, Ashley & Vance Engineering, Inc., JMPE Electrical Engineering, AIA Santa Barbara, Leslie & Frank Schipper, Van Sande Structural Consultants, Insulate Santa Barbara, Lynch Construction, Inc. – Brian Lynch, Tri-Co Reprographics, Thorn Robertson, Sue & Rich Ayling, Brian Hofer Architect, Kari Architect, AIA, and Ruth & Greg Rech.
Community events like this exemplify how the Architectural Foundation of Santa Barbara continues their mission of educating the public on the built environment. Contributions support free educational programs to youth and adults about the importance of design excellence in our built environment.
The Architectural Foundation of Santa Barbara has been dedicated to expanding our community's appreciation of art and architecture since 1983. AFSB and gallery are located in the historic Acheson House at the corner of Garden and East Victoria Streets in Santa Barbara. Regular gallery hours are Saturdays from 1:00 to 4:00 pm and weekdays by appointment.