Architectural Foundation of Santa Barbara
High School Design Competition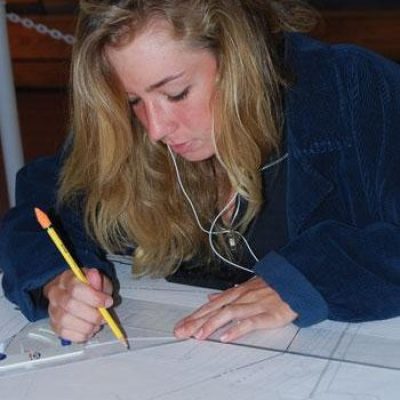 Every spring, there is an all-day design competition fashioned after the Architects Learning Exam held for Santa Barbara County High School Students. This program, started in 1991, introduces high school students to the world of architecture and the design process, through the frame of a fun learning experience.
We were proud to present this year's High School Design Competition: Design From Home 2021. For the first time in the history of this competition, it was held entirely remotely on March 11 and 20, 2021.
If you would like to request an informational presentation to learn more about this competition, please contact AFSB.
High School Desing Competition: Design From Home 2021

*names match from left to right*
Jack Van Thyne, a junior at San Marcos High, won first place.
Susy Lopez, a freshman at Dos Pueblos High, won second place.
Olivia Doman, a junior from Santa Ynez Valley High, won third place.
Ellie Gleason, a sophomore at Dos Pueblos High, was awarded Honorable Mention.
Rachel Lin, a senior at Dos Pueblos High, was awarded Honorable Mention.
Design From Home 2021: Finalists & Designs
From Program Challenges to Design Solutions
"This experience helped me, and I'm sure countless other participants, discover a love for architecture... Overall, it was a great experience."
"I love this competition and I really hope it gets better each year!"
"Thanks so much for organizing this and asking me to be part of it, it was a fantastic experience. The students did such wonderful, rigorous and thoughtful work. I loved doing the reviews with Richard, Zeynep and Tom - learnt a lot from them. The truth is it's a learnable moment not just for the students but also for us. I always get tempted with occasions where there's a chance to from colleagues! Hats off to all of you for such a meaningful and fun initiative. All the best." Tania
Associate Professor, Bartlett School of Architecture, University College London
"This was refreshing and thought provoking. I arrived at this after a lengthy chat with my niece who has also been expressing an interest in architecture, but is another continent away, and whom I can only "help" via zoom. This type of structured activity is so good at sensitizing kids to the demands of a profession for which nothing else in their schooling prepares them. I wish design was much more integrated into earlier education. In the absence of that, thank you for organizing such an event. Something tells me there are other ways you guys are engaging students in Santa Barbara, and that's terrific! I thoroughly enjoyed the day, learned from the kids and my co-jurors. Warm regards to everyone!" Zeynep
Professor at the School of Architecture Planning at Newcastle University
"Thank you for all your work to put the competition together. Giving students this exposure to the field of architecture is so valuable and they learn so much about themselves and the career. This is the third year that Jack has done the competition. The first two he really enjoyed but did not place. The competition spurred him to sign up for an architectural drafting class at city college this year. Placing and then winning this year's competition has him talking about architectural school. Just want you to know all your work is making a difference in kid's lives."
"Jackson submitted his design earlier this afternoon. I just wanted to thank you for the opportunity. He's never done anything like it and gained a lot from it...I know he learned a lot about the connection between math and design. He's in the most advanced math classes but still it was good for him to recognize how it applied to real life. We had a lot of discussions about scaling, area, etc. I think he figured it out but it took a while for him to get it conceptually."