A House Alive With Whispers
Whispers Estate was built in 1894,  a Victorian mansion located at 714 W Warren St in Mitchell, Indiana, has been proclaimed the most haunted house in the US. In 1899, Dr John and Jessie Gibbons purchased the house from the original owners, Dr George and Sarah White. Dr Gibbons was a prominent doctor in town, having his office in the 1st floor rooms in the house.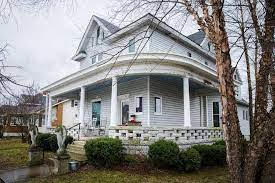 On its official website, http://whispersestate.com/ they say the Whispers Estate is a place "where the walls really do talk" referring to the multiple ghosts and spirits that are found living in the house, there are so many, that it even feels like they are continuously whispering in your ear and people who have visited before, even said that they felt like the whole house was stalking them.