Exhibition Dates: March 13 – May 6, 2020
Opening Reception with the Artist: Friday, March 13, 5-7 pm
Architectural Foundation of Santa Barbara Gallery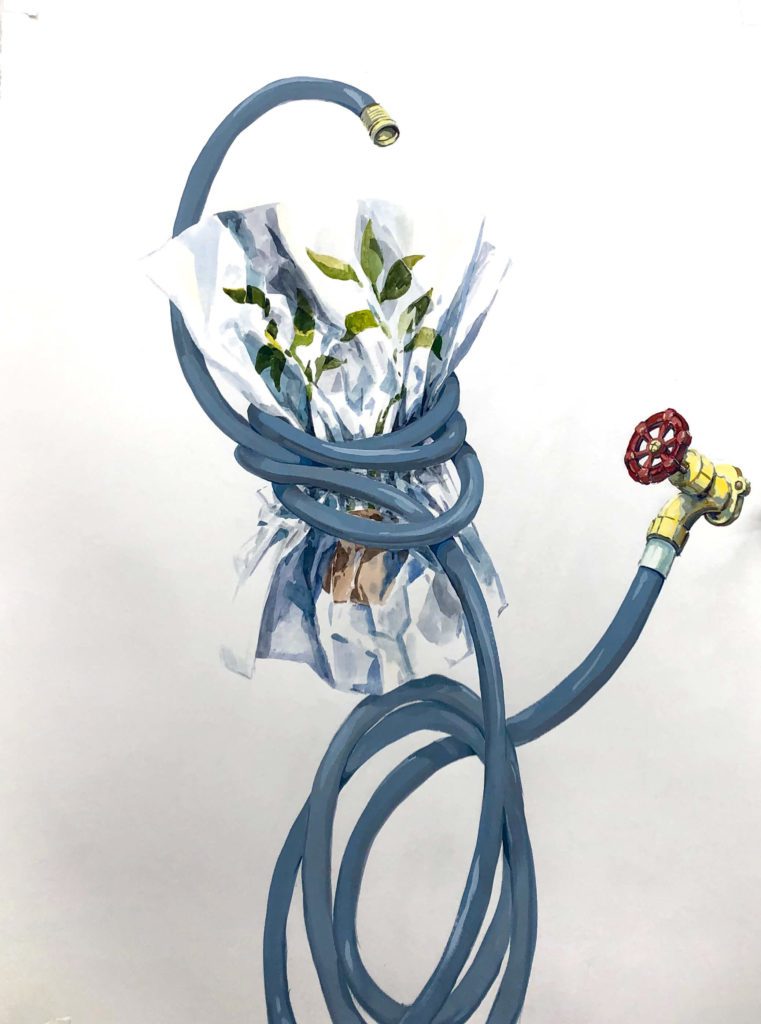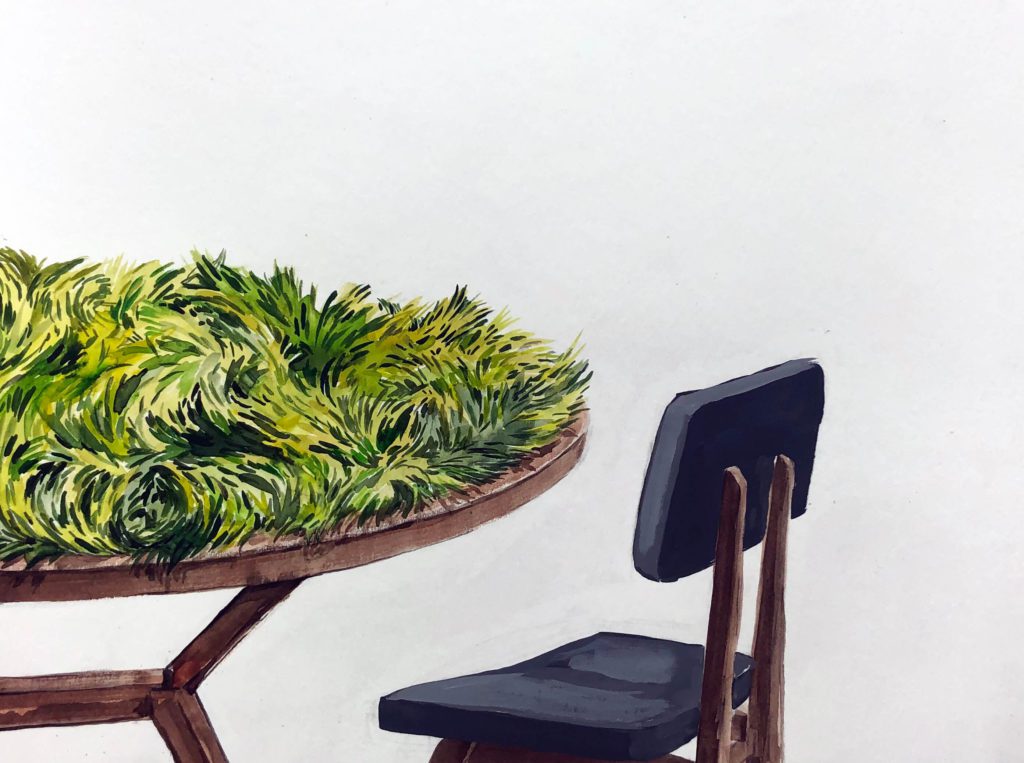 The Architectural Foundation of Santa Barbara is pleased to announce the opening of Meandering the Edges, an installation of works on paper and sculpture by Nathan Huff. An opening reception for the exhibition will be held at the Architectural Foundation of Santa Barbara on Friday, March 13, from 5 to 7 pm. All are welcome.
Meandering the Edges examines ways in which we inhabit homes and move through domestic spaces based on memory and emotion. Installed in unconventional ways on the walls, floor, and corners of the AFSB's meeting space/gallery, Huff's paintings on paper of furniture, wood floors, tables, and shovels are meant to draw attention to the space itself as an important part of the narrative. The Architectural Foundation is housed in a historic Victorian Italianate style home designed and built in 1904 by James J. Acheson. The Acheson House was a residence prior to hosting the offices of several non-profit organizations including the Architectural Foundation of Santa Barbara, the Santa Barbara Chapter of the AIA, and the Junior League of Santa Barbara.
This unique exhibition encourages viewers to muse and meander their way through an ordinary environment transformed by art, inviting them to imagine scenarios and summon lost memories as they go. Huff comments, "As someone fascinated by the stories that reside in our memories and are imbedded in the built environment, I believe that the designed aesthetic of architectural space has a powerful impact on our home life and community structures." His poetic, provocative images and sculpture are rarely straightforward.  Viewers will experience a range of surrealistic styles and installation techniques that slide between the almost comprehensible to the absurd. 
"I hope that this imagined excavation of home invites viewers towards attentive looking at built environments in new ways, charging them with a range of narrative potential and drawing out latent emotion."
Huff earned an MFA in Drawing and Painting from California State University Long Beach, a BA in art education from Azusa Pacific University, and has also studied art in Italy, France, the UK, and Spain. Huff's installations have been featured in solo exhibitions at Sullivan Goss Gallery (Santa Barbara), UCR Culver Museum and Sweeney Galleries (Riverside), Los Angeles at D.E.N. Contemporary (West Hollywood), Minthorne Gallery, (Oregon), Gallerie View (Salambo, Tunisa), group exhibitions at JK Gallery (Culver City), Lotus Land (Santa Barbara), and the Westmont Ridley Tree Museum of Art (Santa Barbara.)  Nathan has taught art at CSU Long Beach, LA Southwest College, Biola University, and Azusa Pacific University as an adjunct lecturer. Currently, he is an associate professor of art at Westmont College in Santa Barbara.