Exhibition - A Natural Curiosity by Nadya Brown
June 3 – August 12, 2023
The Architectural Foundation Gallery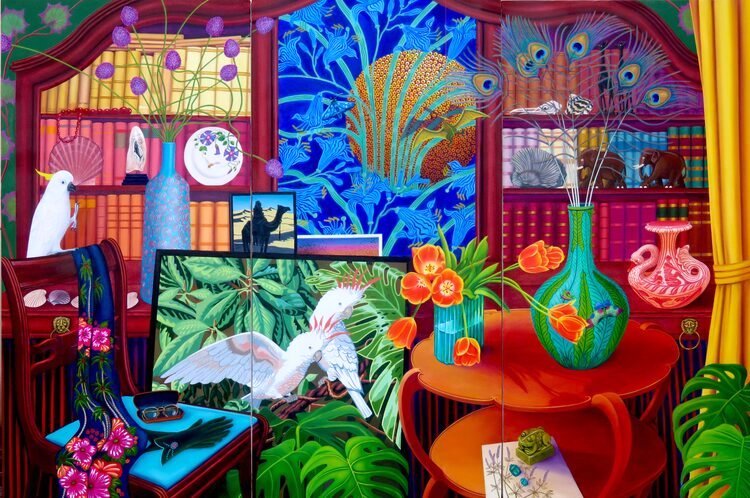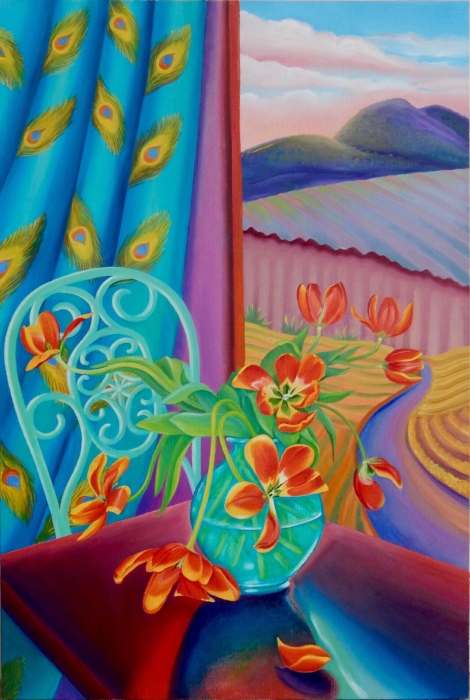 Opening Reception with the Artist
Friday evening June 2, 2023 from 5-7 p.m.
The Architectural Foundation of Santa Barbara is pleased to announce the upcoming exhibition, A Natural Curiosity, a solo exhibition of oil paintings by Nadya Brown.
An opening reception will be held at the Architectural Foundation of Santa Barbara on Friday evening, June 2nd from 5-7 p.m. 
In this series of lush paintings, Nadya Brown creates illusory, imaginary three-dimensional spaces that entice viewers to enter, explore, and examine closely. Through realistic drawing and highly saturated colors, these highly original depictions of decorative objects, flowers, birds, domestic spaces, and landscapes (often combined in a single painting) evoke time, light, and memory in a slightly surreal manner. Brown's travels in Europe, Southeast Asia, and Mexico, plus living and working in different cultures provided much of the inspiration.
"As subject matter, I often use objects that I own, that I have seen in museums and on my travels or photographs I have taken for specific information. This information is imported and combined in my paintings to create geometrical and aesthetic compositions."
Brown's work is both a celebration of nature and of civilization. An example is her large triptych, Simonetta's Library: A Brief History of Nature, a project completed over a year's time during the pandemic. Brown states her concerns: "As questions arise about climate change, and consequently drastic changes to our land and marine environment, I focus on nature as subject matter and what it has to offer, and also how it is abused; these are issues that have gradually entered into my work."
Nadya Brown was born and raised in England. She has since lived in Italy and Spain and now, Santa Barbara, California. After studies in Painting and Printmaking at Goldsmiths College, University of London, she received her MFA from Ohio University. She has exhibited her work extensively in solo and group shows both in the United States and the UK and she has taught at numerous universities and colleges in the U.S.
The Architectural Foundation of Santa Barbara office and gallery are based in the historic Acheson House at the corner of Garden and East Victoria Streets in Santa Barbara. Gallery hours are Saturdays from 1:00 to 4:00 p.m. and by appointment.
Images shown:
Simonetta's Library
48″x72″ Oil on canvas
Triptych
View of the Mountain with Tulips 
20″x30″ Oil on canvas