Upcoming Summer Camps at AFSB: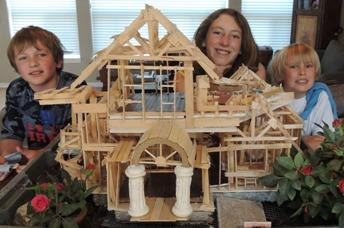 A few spaces are still available for the 2017 Summer Camps!
Sign up for Architecture, City Planning, Inventions and Economics w/LEGO presented by KidZ Engineering 101, Inc. and held at the Architectural Foundation of Santa Barbara – 229 E. Victoria Street,Santa Barbara, CA 93101
Level 1- Architecture Engineering and Design/Build with Real Building Material
August 7-11 1:00-4:30 Age 9-15 Fee $245
Make a mini architectural model with wood framing, truss, concrete and seismic tie-down applying structural design concepts. Practice geometry in building a staircase. Learn the various careers involved in designing and building a new home. (see Interior Design, separate class)
Level 2- Architectural Renovation and Addition, Electrical and Landscape Design (For Previous Students) Using Real Building Material
August 7-11 8:30-12:00 Age 9-15 Fee $235
Just like in real life, dream homes are always a work in progress. You always want to upgrade, renovate or sometimes have an extreme make over. Due to popular demand, this class was designed for students who have attended previous classes and want to come back for more.
New Lesson: Basic residential electrical layout and wiring diagram. Create lamps and chandelier to light up your house and install real light circuits all attached to the main control panel.
Addition and Renovation: You will be rewarded with additional piece of land to landscape and perhaps build a dog house, a gazebo, outdoor furniture, playground or simply add a room.
Interior and Furniture Design
August 7-11 10:30 – 12:00 Age 9-15 Fee:$120
Learn the basics of Interior and Furniture Design and build your dream home.
Access our unique and fine material specially picked to make your project look real.
Build furniture using leather, wood, varnish, elegant fabric and a load of other unique and fine material specially picked to make your dream house look like a model home designed by a professional interior designer, and that would be you! This makes a good supplement to your new house or extreme makeover.
For more information or to register:
http://www.kidzengineering101.com/summer-camps-santa-barbara-and-buellton-ca