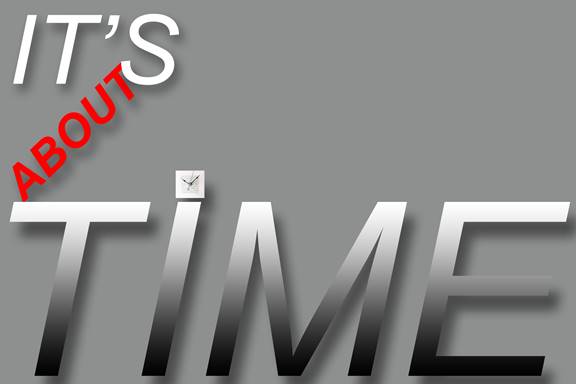 It's About Time:
A Kinetic Installation on the Illusive Nature of Time
by R.T. Livingston
May 12 to June 21, 2017
Architectural Foundation Gallery
Opening Reception on Friday, May 12, 5-7 pm
The Architectural Foundation of Santa Barbara is pleased to present It's About Time: A Kinetic Installation on the Illusive Nature of Time by conceptual artist R.T. Livingston. A participatory Opening Reception is planned for Friday, May 12 from 5 to 7 pm. All are welcome…and, everyone is invited to wear a watch with hands—in order to compare time's uneven path!
The installation, It's About Time, is a visual metaphor demonstrating how our perception of time, with its accordion-like expansion and contraction, is constantly changing while systematically going around in circles. Livingston observes that: "The notion of time begins in our guts then moves to our heads before entering the space of our lives." Like the earth spinning every 24 hours in its yearly rotation around the sun, a clock with hands follows the earth's movement as it makes its rounds. Earth and clock move in sync giving us a poetic connection to the cosmos and the space-time continuum where notions of time travel, memory and déjà vu boggle the mind.
Together with video and sound, It's About Time consists of some eighty 4" x 4" battery-powered clocks with the words 'time is a man made Illusion' handwritten on each. Several layers of iridescent paint partially obscure the writing, which creates movement through the play of light. The uniformity of the square clocks creates a structural matrix in which each clock runs at its own pace, not unlike the movement of our own lives.
R.T. Livingston studied painting with Elizabeth Murray in the Fine Arts Department of Daemon College in Buffalo, New York. Graduate work in the History of Photography took her to Princeton where she studied with Peter Bunnell. While working on a Ph.D. in Art History at Rutgers University, she joined the curatorial staff at the University's Zimmerli Art Museum. In New York, Livingston sat on the Boards of Franklin Furnace and was a charter member of the Brooklyn Academy of Music's Next Wave Festival Producers' Council.
In 2003, after 30 years living and working between studios in Lower Manhattan, Springs-East Hampton and Woodstock, New York, Livingston was commissioned to create several large outdoor installations in California. Additional projects brought her back and in 2006 she moved to Santa Barbara where she continues to spin ideas and make art.
The AFSB Gallery is located in the historic Acheson House on the corner of Garden and East Victoria Streets in Santa Barbara. Regular gallery hours are Tuesday to Thursday, 10 am to 2 pm and by appointment. Please call Allison Marcillac at 805-965-6307.