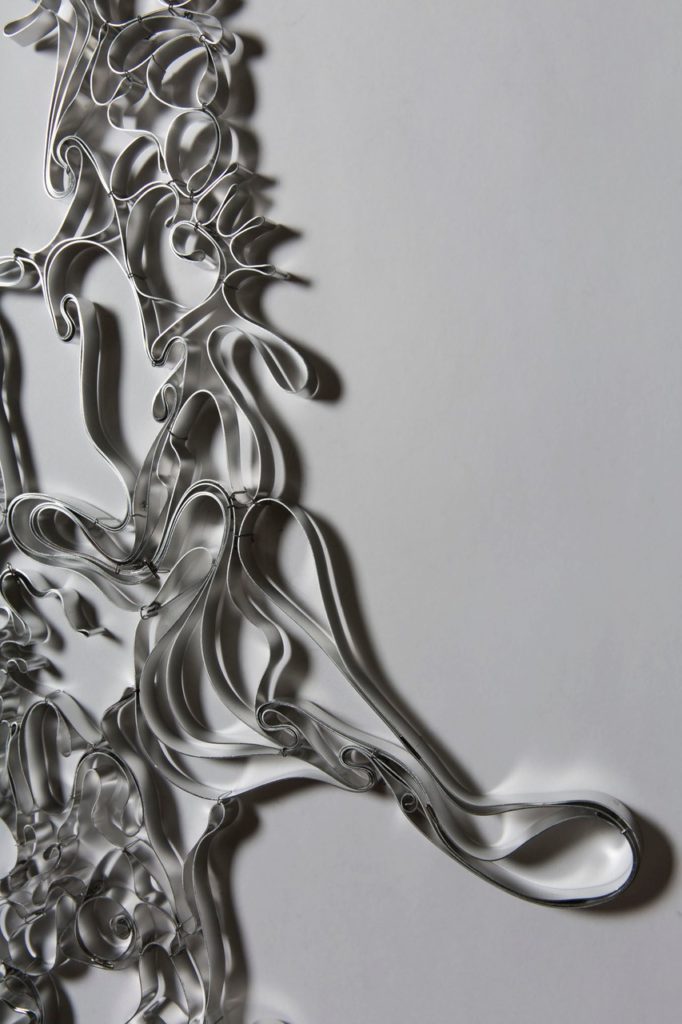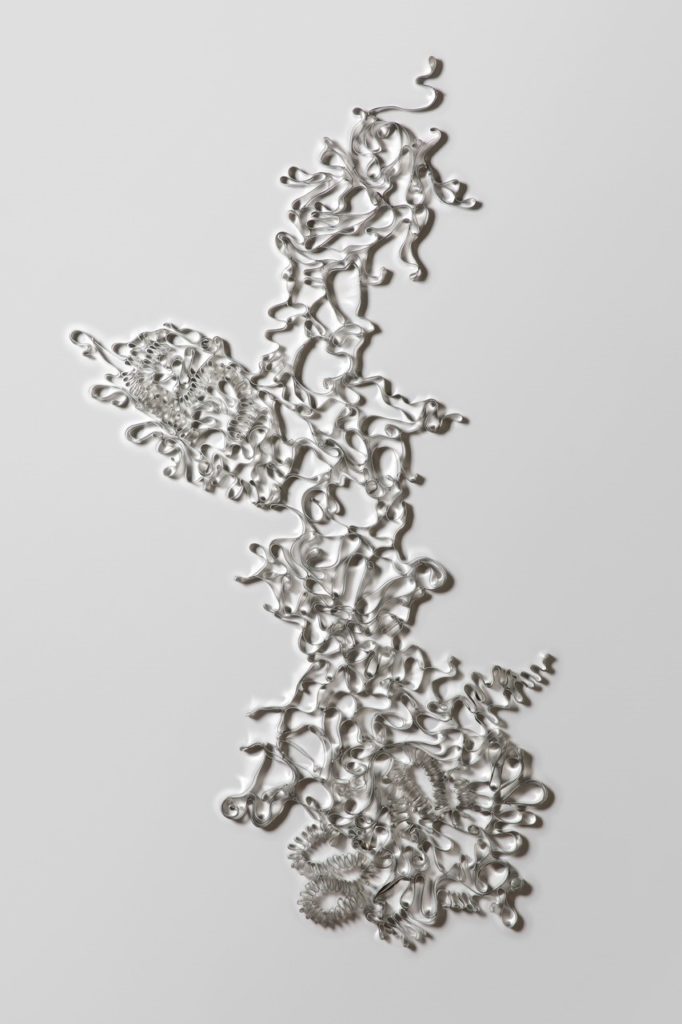 The exhibition consists of innovative wall sculptures made with industrial aluminum and colorful paintings formed with synthetic liquids.  "Stretch" refers to the uncanny malleability of Flanagan's various materials and to her unique experiments, which are designed to provoke neural surprises, both tactile and visual, while evoking a range of feelings. 
Festoons, Flanagan's aluminum wall sculptures, have their beginnings at a New England mill that custom rolls and slices aluminum into strips—typically, for a minimum order of 13,500 linear feet.  Based on her prototypes, metallurgists at the mill provide technical assistance on alloys, temper, gauge, edge, and finish.
More mercurial are Flanagan's painting projects made with synthetic coatings of many colors, transformed by casting, pouring, and curing, then playfully layered into intriguing compositions that challenge the formalities of traditional paintings and archival paint formulas.
Flanagan lives and works in downtown Santa Barbara, overlooking the new Lagoon District and equidistant to East Beach, trails, and art venues. "Visitors to my studio tell me my outdoorsy life shapes my art making. Sounds right. I ocean swim, grow food, and make art–my favorite kinds of work/play, all very sensory. Immersed in the cold Pacific, an unpredictable wilderness, I'm awed, humbled, and overwhelmed. In my garden, I collaborate with my plants, as I prune, feed, and coax them to bear fruit. In my outdoor studio, I pour, squeeze, and bend industrial materials–mimicking the gorgeous sinuosity of nature–as I pretend to control the process. In fact, I'm always surprised by the results, for better or worse, and that's the condition I seek: hard-won suspense with a chance of joy."
Flanagan holds a Masters of Architecture from Yale University, a B.A. from the University of Pennsylvania, and a Certificat in sculpture from ENSAD (École Nationale Supérieure des Arts Décoratifs, in Paris). For over thirty years, she has worked as an independent writer and product designer while making her own art. After her early years as an architectural designer in San Francisco and L.A., Flanagan was invited to write about design and architecture for The New York Times and Metropolis Magazine. She has contributed to a dozen national publications and published two books on design. Since 2002, Flanagan has designed products for the MoMA's Design Store (NYC).